Tag #40201 -
Star Trek Club: Spock's Vulcan Harp
by mountainharp
Created September 23, 2016
As a Pathtag owner, you could Leave a Comment, Leave a Rating, or Offer a Trade for this tag from this screen. Getting a Pathtag made is quick, easy and affordable. Log in and then
Click here to start!
This is my tag for the Star Trek Club. I will accept trade offers ONLY from other club members at this time; nonmembers who wish to trade, please use the wishlist function.
I have been a Star Trek fan ever since it was first aired in the mid-1960s. I was in junior high at the time, and all of my closest friends were also instant fans. We spent many walks home from school excitedly discussing the latest episode, and I was so desperate to preserve this magical TV series that I set my little cassette tape recorder in front of our black and white television and recorded just the audio (which was my limit on recording technology at that time) so that I could at least go back and listen to my favorite episodes.
The characters of Star Trek were the most interesting to me, much more than just which planet or alien race needed their help from week to week; and Mr. Spock was perhaps my favorite. Being somewhat of a nerd type myself, and a musical one at that, I identified with his desire for excellence in academics and music; and knowing that his combined human and Vulcan heritage made it difficult for him to find a culture that truly accepted him, I also understood how that felt, as my values and interests made me different from most of my fellow students for much of my life. So, I gladly chose him as the subject for my tag; and since I am also a harpist, I decided to portray him playing his Vulcan harp.
Although the Vulcan harp might be more accurately called a lute or lyre, since the strings are parallel to the soundboard, rather than perpendicular to it as on a harp, Mr. Spock was a virtuoso player on the instrument, whatever it is called. He played one in several episodes and kept it on a wall in his quarters.
The Vulcan harp was not limited to the original Star Trek series, as there are references to the Vulcan harp in several episodes of the subsequent series Star Trek: The Next Generation and Star Trek: Voyager. Also, there is an app currently available that allows people to play a virtual version of the Vulcan harp on the Apple iPad. If I ever get an iPad, this app will be the first one I will add to it!
Sadie of Peachy Pathtags designed this tag from a photo of Spock in a reflective and musical mood, and the resulting blueprint took quite a few revisions and tweaks before it was finally approved... but hopefully it was worth the wait. Thank you so much, Sadie, for another beautiful design which is extra special to me, and which I hope the club enjoys as well!
I found the information below on a website titled "Memory Alpha" which provides more details on the Vulcan harp/lute.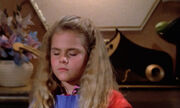 The Vulcan lute (sometimes referred to as Vulcan harp, Vulcan lyre, or Vulcan Lyrette) was a twelve-stringed instrument, played on the planet Vulcan, that was tuned on a diatonic scale and noted to be very soothing. (VOY: "Innocence")
Spock was proficient at playing the Vulcan lute and was known to play it often during his off-duty hours. (TOS: "Charlie X", "The Conscience of the King", "Amok Time", "The Way to Eden"; Star Trek V: The Final Frontier)
Nyota Uhura was able to play it, singing while playing Beyond Antares for Kevin Riley shortly before an assassination attempt in engineering. (TOS: "The Conscience of the King")
Tuvok was also a proficient Vulcan lute player. He would often play his lute while reciting "Falor's Journey" to his youngest son. (VOY: "Persistence of Vision", "Innocence", "Riddles")
Melian, an Aldean musician, also owned a Vulcan lute. (TNG: "When The Bough Breaks")
In the final draft script of TOS: "Charlie X", this musical instrument was described as "a strange stringed guitar-like instrument that gives off unique and not at all earth scale semi-electronic sounds."
The Vulcan lute in "Charlie X" was designed by Wah Chang.
In VOY: "Innocence", the Vulcan lute is described as a five-stringed instrument tuned in a diatonic scale, but visibly has twelve strings. It is strongly suggested that the lute is instead tuned in a twelve-tone chromatic scale, since a seven-tone diatonic scale can fit in neither five nor twelve strings.
In a deleted scene from TOS: "Elaan of Troyius", Spock revealed that he took second place in the All-Vulcan Music Competition, and that his father had taken first place.
The description of the Vulcan Lyrette from the original Star Fleet Technical Manual reads that this is "An unusually harmonious and melodic accompaniment or solo instrument, whose origin is lost in Vulcan antiquity. It combines the tonal qualities of a harp, lute, sitar, and to some extent, violin." They were usually made of Li'Pon and Sher Skah woods, with a Bahun'ahb inlay. The lowest pitch it can reach is 60 cps, and the highest is an astounding 3180 cps.
(From Memory Alpha website)
---
Keywords For This Tag
Suggested Keywords
(click a keyword to see all tags with that keyword!)
Peachy Pathtags(1) harp(1) Star Trek Club(1) Design by Peachy Pathtags(1) Spock(1)
Log in to suggest keywords for tags in our gallery! Keywords help others find tags by design content!
Additional Images