Tag #36173 -
TWIN PEAKS: The Bookhouse Boys
by Ranger Lynn
Created July 08, 2015
As a Pathtag owner, you could Leave a Comment, Leave a Rating, or Offer a Trade for this tag from this screen. Getting a Pathtag made is quick, easy and affordable. Log in and then
Click here to start!
To commemorate the 25th Anniversary of Twin Peaks, and the news that a long-awaited third season will appear on Showtime in 2016, I wanted to create a series of pathtags in honor of my favorite TV show of all time. Thank you Pink Sweets for aiding the design process!
The Bookhouse Boys are a secret society on Twin Peaks, formed to combat the darkness surrounding the town. The members, some of whom belong to the police department, also play a kind of vigilante role against drug dealers, etc. They are not afraid to take the law into their own hands.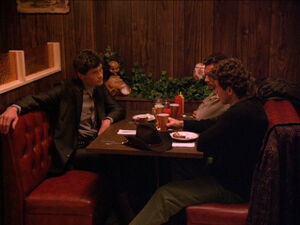 Like the Freemasons, they have their own secret gesture, a stroke with a finger on the temple They derive their name from their meeting place, the Bookhouse. It is a building full of books and contains a bar and cafe. Source: http://twinpeaks.wikia.com
---
Keywords For This Tag
Suggested Keywords
(click a keyword to see all tags with that keyword!)
twin peaks(1) tree(1) sword(1) twin(1)
Log in to suggest keywords for tags in our gallery! Keywords help others find tags by design content!
Additional Images
No additional images.