Tag #29346 -
It's Fractalicious ! - Expired Mold
by houmildex
Created December 01, 2013
As a Pathtag owner, you could Leave a Comment, Leave a Rating, or Offer a Trade for this tag from this screen. Getting a Pathtag made is quick, easy and affordable. Log in and then
Click here to start!
This is another one of my Pathtag Club submissions that didn't make the cut. Too bad, it turned out amazing - see photo.
I made a couple of modifications to the design and made it my own.
I've been facinated by fractals for some time now. I really don't care about the math equations that go into creating a fractal - I like the colors and shapes. I make my own fractal desktop backgrounds using a free fractal generating program I found a few years ago (Although I did not create this particular design - I did make some modifications to it)
Creating fractals is a great way to waste away some time when you are not scanning the pathtag gallery looking for new trades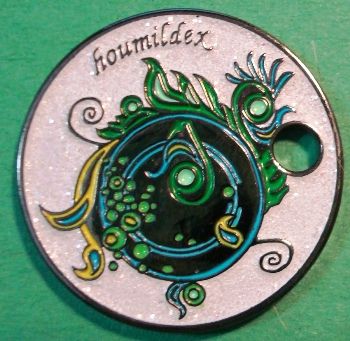 ---
Keywords For This Tag
Suggested Keywords
(click a keyword to see all tags with that keyword!)
Fractal(1) Glitter(1)
Log in to suggest keywords for tags in our gallery! Keywords help others find tags by design content!
Additional Images
No additional images.