by Magelet
Created April 14, 2013
As a Pathtag owner, you could Leave a Comment, Leave a Rating, or Offer a Trade for this tag from this screen. Getting a Pathtag made is quick, easy and affordable. Log in and then
Click here to start!
My first pathtag! I have very few of these left and I'm unsure if I will be ordering a refill for the light red transparent enamel (to look like blood!). Most will be used to drop in caches. I would appreciate these not being resold as I find it rude to profit from someone else's design, especially a signature design. They are for collecting and trading. If you find it or trade for it please log it!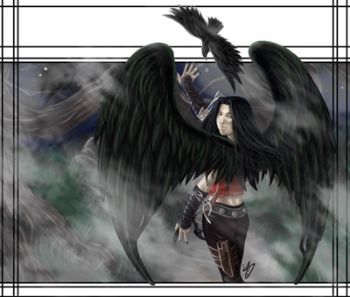 Magelet (pronounced 'MAYJ-let') is an original character I created, and thus has become an alter ego of mine over the years. She started out as a Gangrel vampire for the tabletop roleplaying game 'Vampire: The Masquerade' but eventually evolved into my own vision.
I've mostly created these for dropping in caches, but I'm willing to trade a few for crow/raven, skulls/bones, fantasy, mythology, sci-fi, video game, or any other nerdy themed pathtags.
---
Keywords For This Tag
Suggested Keywords
(click a keyword to see all tags with that keyword!)
raven(1) magelet(1) angel(1) crow(1) wings(1) vampire(1) goth(1) gangrel(1)
Log in to suggest keywords for tags in our gallery! Keywords help others find tags by design content!
Additional Images