Tag #26188 -
Japanese Manhole Cover: Happy Little Owls
by Quossum
Created March 13, 2013
As a Pathtag owner, you could Leave a Comment, Leave a Rating, or Offer a Trade for this tag from this screen. Getting a Pathtag made is quick, easy and affordable. Log in and then
Click here to start!
These are all gone now. Thanks for all the trades!
I'm down to only a few of these, so I'm switching to wishlist trading. I'll trade until they're gone!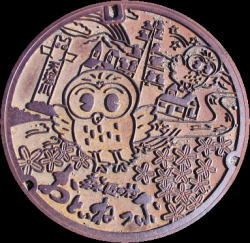 Chris Mackey did a fine job translating this one to color.
---
Keywords For This Tag
Suggested Keywords
(click a keyword to see all tags with that keyword!)
manhole(1) JMC(1) Manhole Cover(1) Owl(1)
Log in to suggest keywords for tags in our gallery! Keywords help others find tags by design content!
Additional Images
No additional images.