Tag #25145 -
BET BIL's 1,000th find tag (retired)
by BET BIL
Created December 18, 2012
As a Pathtag owner, you could Leave a Comment, Leave a Rating, or Offer a Trade for this tag from this screen. Getting a Pathtag made is quick, easy and affordable. Log in and then
Click here to start!
The last one went out in a trade on November 19th, 2014. They are all gone now.
This is our first tag and is to mark our 1000th find in December 2012!
It is available for trade. I will be using it as a FTF swag for the caches that I put out, for as long as they last.

If you find this tag in a cache, it is yours to keep and start your own PathTag collection. If you feel like moving it to another cache that's Okay also. Whichever you do, please log it at www.pathtags.com.
HAPPY CACHING .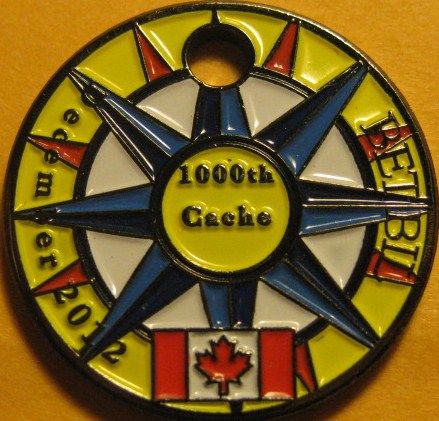 ---
Keywords For This Tag
Suggested Keywords
(click a keyword to see all tags with that keyword!)
Ontario(1) milestone(1) compass rose(1) 1000 finds(1) 1000 cache(1) Canada(1)
Log in to suggest keywords for tags in our gallery! Keywords help others find tags by design content!
Additional Images
No additional images.