Tag #20390 -
Nanavark 2 - numakeh's Geoaardvark Racer Summer Edition
by numakeh
Created December 10, 2011
As a Pathtag owner, you could Leave a Comment, Leave a Rating, or Offer a Trade for this tag from this screen. Getting a Pathtag made is quick, easy and affordable. Log in and then
Click here to start!
Nanavark - Geoaardvark Racer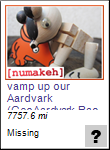 If your name is highlighted in the Travel Diary of our Proxy Aardvark, you'll get one of our two Nanavark-Pathtags for free
All 33 members of the Aardvark-Race will get only one of the Nanavark Winter for free. I promised this to an unknown Varknapper
Please be patient I'll combine my Nanavark-Tag with regular trades.
This is the Summer Edition!

2012 - A year of important geocaching milestones for us

We found the 2000. cache on 03/25/2012
We hide the 50. cache on 04/09/2012
Hopefully we will finish the 366 Challenge on 04/21/2012
And we will finally win the Geoaardvark-Race although Nanavark runs into the wrong direction
Design: numakeh
Who is Nanavark?



Nanavark is an Aardvark which was painted from me, like the Nanas from Niki de Saint Phalle.
----------------------------------------------------------------------

Order History 100 Tags:

01/20/12 101 Tags arrived

01/09/12 shipped
12/14/11 1st Blueprint accepted
12/10/11 Design sent
---
Keywords For This Tag
Suggested Keywords
(click a keyword to see all tags with that keyword!)
geoaardvark(1) german(1) nanavark(1) signatur tag(1) 366(1) numakeh(1) race(1) milestone(1) aardvark(1)
Log in to suggest keywords for tags in our gallery! Keywords help others find tags by design content!
Additional Images