Tag #14937 -
Dog Tag: Hobbit
by Quossum
Created October 27, 2010
As a Pathtag owner, you could Leave a Comment, Leave a Rating, or Offer a Trade for this tag from this screen. Getting a Pathtag made is quick, easy and affordable. Log in and then
Click here to start!
All of the Hobbit tags have gone to new homes now. Thanks for all the trades!
Hobbit is a Pembroke Welsh Corgi, born Feb. 17, 2003.
When Corky, my very first Pembroke, passed away, at first I thought I would never want another one. But Corgi-less life soon convinced me otherwise. Even though I had an Italian Greyhound puppy already, I felt like I *had* to have another Corgi, so the search began. Turned out a local breeder had a litter almost ready to go.
At first I had another pup in mind, but when James and I went to look at the puppies, one of them kept putting herself into our laps and seemed the most interested in us of all the litter, so, she became our "Hobbit"--the name had been picked out long before the dog!
Hobbit has received the following Agility titles: NA, NAJ, NJP, NF, NFP, OF, OA, and AXJ. She's not the most enthusiastic Agility dog, displaying either lightning speed (heedless of my commands), or plodding lethargy (Ah, mom, do I have to?), but she's played along with me for many years now, so she's earned her Agility retirement. Now it's couches, walks, and the lazy life for this hairy-footed little beast!
This tag was designed by the amazing Chris Mackey.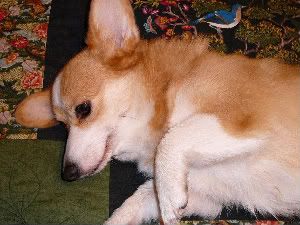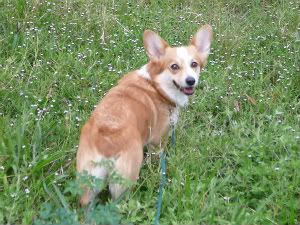 Blueprint approved: Nov. 5, 2010
Tag arrived: Early Dec. 2010
We lost Hobbit on Feb. 26, 2016. When I look at her tag, I smile. Her quest was to be the "heartbeat at our feet," and in this, she was successful. Good-bye, girl.
---
Keywords For This Tag
Suggested Keywords
(click a keyword to see all tags with that keyword!)
The One Ring(1) dog(1) Pembroke Welsh Corgi(1) LOTR(1) Agility(1) Chris Mackey(1)
Log in to suggest keywords for tags in our gallery! Keywords help others find tags by design content!
Additional Images
No additional images.