Tag #13459 -
White-marked Tussock Moth
by Quossum
Created June 11, 2010
As a Pathtag owner, you could Leave a Comment, Leave a Rating, or Offer a Trade for this tag from this screen. Getting a Pathtag made is quick, easy and affordable. Log in and then
Click here to start!
I am now out of this tag. Thanks for all the wonderful trades!
The White-marked Tussock Moth and its more well-known caterpillar form
This tag was created for the Moth and Butterfly Club of 2010. As a latecomer to the group, I saw that most of the more spectacular members of the Lepidoptera had already been designed. So I started thinking about the members of this family with which I was personally familiar.
In my area, in certain times of the year, there are an abundance of horned, tailed, red-headed caterpillars. They abound on the oak trees; their cocoons can be found in every outdoor crevice; they drop onto you if you hang out under a tree for too long. We called them "asps" and knew the fur would sting you, but other than that, I had no idea what creature they turned into.
A little research, and I discovered a fascinating moth with an interesting life story. The female doesn't have wings at all, but emerges from her cocoon, attracts males using pheromones, and, once her suitor has done his job, lays eggs right there at her cocoon site, and dies. So, if you see one of these moths, you know it's a male! There are wide variations of the greyish-brown and black markings, and they camouflage against bark very well.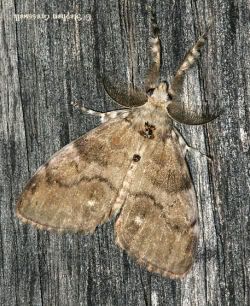 About this tag:
Using a light box, I traced pictures and designed this myself. Due to the...*ahem*...non-professional nature of my drawing, I'm sure, there was some back-and forth on the blueprint, but at last the tag entered production June 30, 2010.
Arrived: July 21, 2010. The "l" in "leucostigma" got cut off, so it's going back for a do-over. It'll be a few more weeks...
Arrived, correct: Aug. 18, 2010. *Whew!* The tag looks great, very detailed, very pretty.
---
Keywords For This Tag
Suggested Keywords
(click a keyword to see all tags with that keyword!)
Butterfly/Moth Club(1) caterpillar(1) moth(1) Butterfly Club(1) butterfly(1)
Log in to suggest keywords for tags in our gallery! Keywords help others find tags by design content!
Additional Images
No additional images.