Tag #13226 -
Macleay's Swallowtail - Butterfly/Moth Club
by stagetree
Created May 24, 2010
As a Pathtag owner, you could Leave a Comment, Leave a Rating, or Offer a Trade for this tag from this screen. Getting a Pathtag made is quick, easy and affordable. Log in and then
Click here to start!
Sorry, I'm all out of this tag.

-----------------------------------------------------------
This tag was created for the Butterfly/Moth Club and will first be traded with club members.

If you found it in a cache then it's yours to keep.
-----------------------------------------------------------



The story behind this tag.

The year is 2005. Imagine an innocent muggle with not a care in the world, planning a brief family trip to the mountains. Oh how this butterfly would shortly change his life for the better.

In early January 2006 I visited Mt Donna Buang, just outside of my hometown of Melbourne. While I was there I was marvelling at the Alpine meadows in full flower (this being the height of Summer in Australia) and at the sheer number of Butterflies, Moths and Hoverflies that were out flitting around and feeding on the many flowers. When, out of the corner of my eye I noticed a butterfly of a colour that I'd never seen before. "Huh.... I'd better snap a picture of that with my flash new digital camera" (2006 --> remember when you thought a digital camera was still new and cool? :-)

Below is one of the many shots I took of this stunning butterfly. What shows well in this picture is the distinctive powdery pale green on the wings.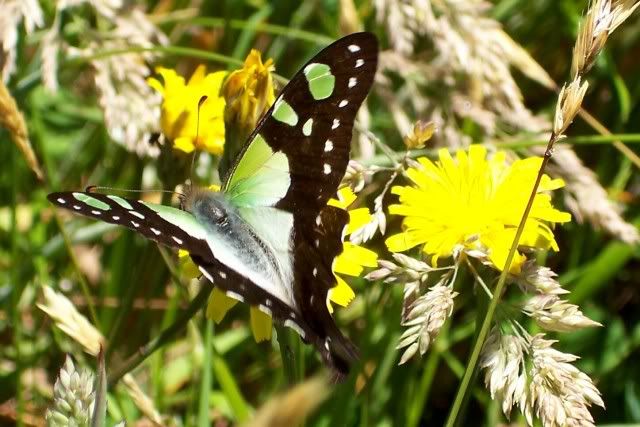 When I got home I raced to the computer and Googled "Mt Donna Buang Butterfly" and, blow me down if the first hit wasn't someone else's pictures of the same butterfly, AND THEY KNEW THE NAME!! I was over the moon. I now knew that what had fascinated me on the mountain was Macleay's Swallowtail.

My eye wandered down the list of hits and chanced across someone's description of Geocaching while Hiking on the Mountain (and spotting Butterflies). This was the first I'd ever heard of Geocaching and indeed it did sound very interesting. I read about it, even looked at the web site but put it in the "one day" basket. Except for occasional daydreams this is where it stayed until 2008 when I was about to set off on a seven day hike on the Overland Track in Tasmania. "I'll get a handheld GPSr for the hike" I thought and why not try out some of this Geocaching as well?
I did and I loved it. :-)

It was on the hike that I had my second encounter with this amazing butterfly.
We camped for the last night of the hike on the shore of Lake St. Claire in as picturesque spot as you could imagine. Towards evening the low sun lit up our campsite and a cloud of butterflies descended on us from across the lake. I took one look and knew that my friend the Macleay's Swallowtail was back. The final stamp of approval you might say on this choice of hobby.

Here is a picture of the scenery that greeted me when I sat in my tent after that long days hike.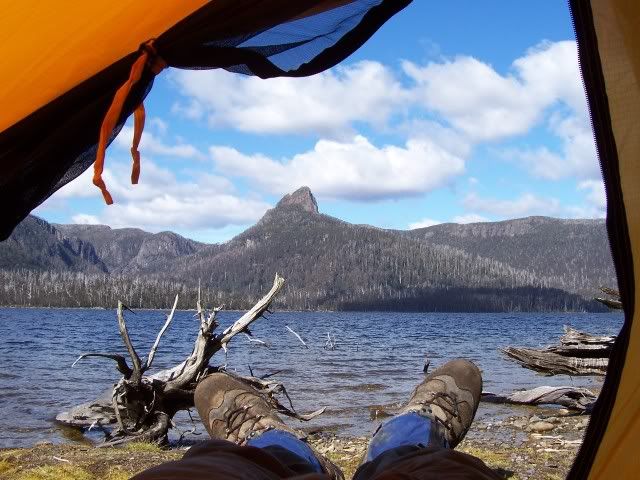 So, there you have it. As a direct result of a chance meeting with this butterfly I got into Geocaching and this led me to pathtags when I found my first tag in Tasmania while on holidays.


Description:
The Macleay's Swallowtail (Graphium macleayanus) is a butterfly belonging to the family Papilionidae. The species was named after Alexander Macleay and was first described by William Elford Leach in 1814.
The adult female Macleay's swallowtail has a wingspan of 59mm, whilst the adult male has a wingspan of 53mm. For both sexes the upside of the wings is green with white markings and black edges. The lower surface is a deeper green with black, brown and white markings. The lower wings are strongly tailed.

Distribution and habitat:
The Macleay's swallowtail is one of the most widely distributed swallowtail butterflies in Australia. It is found in Eastern Australia including the ACT, New South Wales, Queensland, Victoria and Tasmania. It is the only swallowtail found in Tasmania. The species has also been found on Lord Howe Island and Norfolk Island, but not since 1893. The habitat of the species includes urban areas, forests, woodlands and heath.

Behaviour:
The caterpillars are green, with small white dots all over the body and a humped thorax. They feed on the foliage of members in the Atherosperma, Cinnamomum, Cryptocarya, Daphnandra, Doryphora, Endiandra and Tasmannia genera. The caterpillar grows to a length of 4cm. The pupa is green with thin yellow lines.
The adults feed on nectar from flowers, including the genera Leptospermum, Lantana and Buddleia. The flight period is from November to March.

---
Keywords For This Tag
Suggested Keywords
(click a keyword to see all tags with that keyword!)
Australian(1) Butterfly/Moth Club(1) Butterfly(1)
Log in to suggest keywords for tags in our gallery! Keywords help others find tags by design content!
Additional Images
No additional images.