Tag #17685 -
CELEBRATING SYDNEY
by Aussie Pathtag Club
Created May 09, 2011
As a Pathtag owner, you could Leave a Comment, Leave a Rating, or Offer a Trade for this tag from this screen. Getting a Pathtag made is quick, easy and affordable. Log in and then
Click here to start!
APC - JULY 2011
Designed by : tigersden
THANKS FOR DROPPING BY
If you like this tag, come and check out our Aussie Pathtag Club website
http://www.aussiepathtagclub.webs.com/
We're open 24/7 if you'd like to join! We have some great designs up for grabs for your personal use as well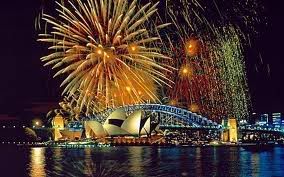 .
Get on a plane and come and see Australia. If you want a really special treat then plan to be here to let the New Year in. Aussies know how to celebrate, it's in our blood, and the place to be is on the banks of Sydney Harbour.
The Old Coat Hanger (Sydney Harbour Bridge) hosts an incredible display of fireworks, which is unparalled (we reckon) in the world. We sure let the New Year in with a bang!
The Sydney Opera House is really close and adds to the breathtaking display of explosive colour.
Both these structures are relatively young but represent Australia in the same vein as the pyramids do Egypt and the Eiffel Tower in France.
The Opera House, opened in 1973 by Her Majesty Queen Elizabeth went over budget by $95 million., costing $102 million. 13.5 times original estimates. No one regrets it now. Its an architectural marvel looking like it could catch the wind in her sails and head for the high seas. It was largely paid for by a state lottery. In the Concert Hall, Arnold Schwarzenegger won his final Mr. Olympia body building title in 1980.
Sydney Harbour Bridge was opened in 1932. Many families lost their homes to make way for the new structure. However it was dubbed the Iron Lung as it provided work for so many men during the post war years.
DeGroot became famous when on 19 March 1932, he upstaged New South Wales Premier Lang at the opening of the Sydney Harbour Bridge. He was not a member of the official party but dressed in his military uniform he was able to blend in with other soldiers on horseback who were guarding the dignitaries. Lang was about to cut the ribbon to formally open the bridge, when de Groot rode forward, drew his ceremonial sword and, reaching down from his mount, flamboyantly slashed the ribbon, declaring the bridge open "in the name of the decent and respectable people of New South Wales."
De Groot was arrested, and his ceremonial sword confiscated. He was sent to the Reception House, but legal intervention soon had him released. He was then charged in the Supreme Court with carrying a cutting weapon, but when he was able to show that he was an officer in the military reserve and entitled to wear his uniform, which included his sword, that was soon dropped. Then he was charged with offensive behaviour. At the time this charge only applied to public property, and the law case then depended on whether the unopened bridge was public or private land. If private land, the charge had to fail, and if public, it meant that the road across the bridge was part of the King's highway, and under common law any of His Majesty's subjects was entitled to remove any obstacle, including ribbons, barring free progress along the King's Highway. In the end the court fined him £5 for trespassing. A large part of the plan to humiliate Lang was for all of de Groot's acts to be legal.
---
Keywords For This Tag
Suggested Keywords
(click a keyword to see all tags with that keyword!)
SYDNEY(1) Opera House(1) Australia(1) apc(1) Fireworks(1) Bridge(1)
Log in to suggest keywords for tags in our gallery! Keywords help others find tags by design content!
Additional Images
No additional images.