Tag #18751 -
Harry Potter Club: Hermione Granger's Handbag
by FluteFace
Created July 30, 2011
As a Pathtag owner, you could Leave a Comment, Leave a Rating, or Offer a Trade for this tag from this screen. Getting a Pathtag made is quick, easy and affordable. Log in and then
Click here to start!
""When you say you've got the Cloak, and clothes..." said Harry, frowning at Hermione, who was carrying nothing except her small beaded handbag, in which she was now rummaging. "Yes, they're here," said Hermione, and to Harry and Ron's utter astonishment, she pulled out a pair of jeans, a sweatshirt, some maroon socks, and finally the silvery Invisibility Cloak... She gave the fragile-looking bag a little shake and it echoed like a cargo hold as a number of heavy objects rolled around inside it." ~from Harry Potter and the Deathly Hallows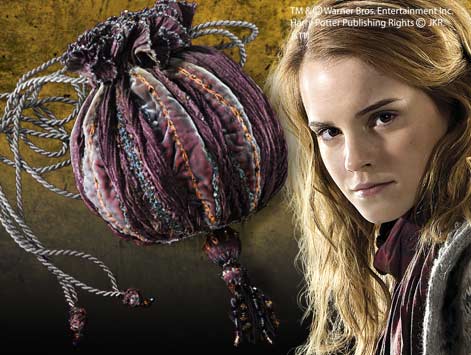 Hermione Granger owned a small, purple, beaded handbag, which she purchased in the summer of 1997 or earlier. She placed an undetectable extension charm on it and inside and it held many possessions she and her friends would need during their hunt for Horcruxes. Some of the items contained in the purse included:
Cloak of Invisibility
Essence of Dittany
Perkins's Magical Tent
At least seven books
A change of clothes
Phineas Nigellus Black's Portrait
Polyjuice Portion
---
Keywords For This Tag
Suggested Keywords
(click a keyword to see all tags with that keyword!)
Harry Potter(1)
Log in to suggest keywords for tags in our gallery! Keywords help others find tags by design content!
Additional Images
No additional images.